Electro/Mechanical Design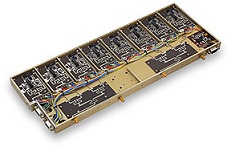 GlenArts has many years experience in all types of PCB design as well as complex electrical housings and electronic enclosures. Many of the designs are in equipment that are military and space qualified. One piece of equipment was sent up in the space shuttle, another aboard the F-22 fighter jet and the F-35, a rotating gimbal housing with flight control, imaging boards, and an microwave antenna array switch matrix.
Many Designs are per Mil Standards, CSA and UL specifications for such companies as; IBM, Narda Microwave, BAE, North Atlantic Industries, Lockheed, MPD, Thermadyne, and TRM. Our documentation packages often supply; Schematics, Fabrication Drawings, 3D Models, Assemblies, and Bill of Materials.

Established in 1989, Card Frame Designs, Card Racks and Printed Circuits;
In 1980's with RF and Microwave Power Boards; In the 1990's with Passive, Microwave Devices and 3D Layouts;
In 2000 Autocad 3D and SolidWorks 3D Modeling, Multi-Layer Microwave PCB's with Mixed Microstrip and Stipline Circuits; And today with 22+ Layer PCB's with Impedance Matched Traces.